Alumni
Alumni statements
Sylwia Padiasek, DAFM Alumni, graduation in June 2017
employed from February 2017 as Consulting Project Coordinator and Executive Assistant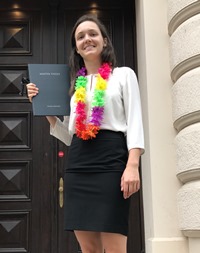 As a recent DAFM Master Program graduate a few months into my "career", I am excited to give a broader perspective to those who are still struggling to decide whether the DAFM joint-master program is for them. First and foremost, I think that BOKU is an excellent Mother University of this Master Program. I was proud to be an international student at BOKU and other universities offered within the CASEE structure. The universities provided an extraordinary level of education, and I encountered awesome, smart, articulate people who are still my friends today – scattered all around the world. Even though the DAFM Master program is focused on the Danube Region, the knowledge, critical thinking skills and complex problem solving that you learn through the program are applicable and necessary everywhere and anywhere you go. The learning outcomes are adaptable for other regions because the common problems of agriculture, sustainability and food production are universal. We, as DAFM students, are able to look at the Food Systems in a complex way. We grasp ideas from different countries, cities and continents and translate them into our work.
My personal experience with the program has exceeded my expectations. I was able to attend multiple agricultural and food-focused conferences and networked during many events. In the summer of 2016, I attended the Eating City Summer Campus, where I met my current employer. I am currently solving food and community issues across the United States with Karen Karp & Partners, a Food Consultancy based in New York City. I keep my fingers crossed for my colleagues and for you – future DAFM graduates!
---
Join us on Facebook!
---
Job Search Engines for alumni
BOKU:
CULS:
Job Search at the Czech University of Life Sciences Prague
SZIU:
Job Search at Szent István University Gödöllö: Karrieriroda (only in Hungarian available)

UNIZG

Job Search at the Universtiy of Zagreb (some of the links are only in Croatian available)
UNS
WULS
Job Search at the University of Warsaw University of Life Sciences (only in Polish available)
Nitra: -
BUASVM: -